I don't write reviews very often and I don't remember the last time I wrote anything longer than a tweet-long comment buried between other similar comments. I think they were mostly negative because that's what people generally do: they leave negative reviews when they're angry on a product or a service and want to share their anger with the whole world. Not this time.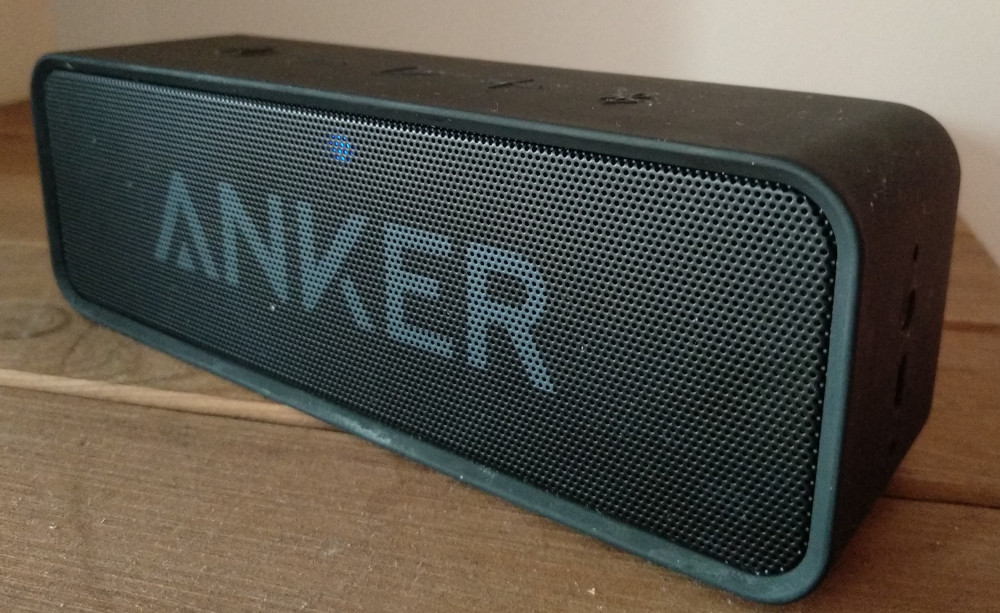 Sometime last year we decided, together with my wife, that we need a bluetooth speaker. We hoped to listnen to the music in the garden and in the kitchen where we have nothing else to generate background noise. We hesitated to spend a lot because we weren't sure if we were going to like it and use it, so we set our upper limit to 100-150 zł1.
My first thought was to buy one of JBL's models because I had just bought their earphones and was fairly happy with them2. I did some research first and to my surprise most of friendly internet people agreed that there are better options in that price range and Anker SoundCore (first version) was often on top of their lists.
Few quick messages later between me and my wife and I placed an order for our new bluetooth speaker. It arrived later that week and immediately conquered our hearts.
It doesn't swim
First things first: it doesn't swim. Every review says that. Apparently there's market for this feature but I never felt the urge to swim with my speaker. Maybe if I were younger or spent more time over the water…
However, this fact has an implication: the speaker isn't waterproof. Which might be a problem if weather changes suddenly in the middle of BBQ party. I'm yet to find myself in that situation, but I guess I don't throw enough parties.
Sound is amazing
Jokes aside, Anker SoundCore isn't Hi-Fi, but its capabilities are truly amazing for the price and size. Think about it: it is 165 mm wide, 45 mm tall and has two 3 W speakers. How big can they be? 1", maybe 2"? I wasn't familiar with speakers that small so I expected something slightly better than smartphone farting and SoundCore outgrew all of my expectations.
Sound is clear and deep but lacks some details which can be heard on higher end equipment. You probably won't catch the sound of fingers sliding over the strings of cellos in the back of symphony orchestra. I'm fine with that. After all we're talking about portable speaker, designed to accompany people on the trips and in places where would be inconvenient to use anything else. But even with these constraints in mind, it subjectively performs better than many bigger and more expensive speakers that I had encountered.
I didn't expect any bass at all, but here it is. Not super deep but just enough satisfy. I thought that middles will be flat and trebles squeaky, but they're clear. Volume can be quite loud at maximum, but probably not enough to summon your elderly neighbours to come and knock at your door. Overall the sound experience is very pleasant.
Battery is incredible
Everyone says that, but I must repeat it: battery is everlasting. Officially Anker promises 24 hours of play time, but that's a lie. Battery lasts much longer.
SoundCore reports its battery status but after constantly seeing over 90% of remaining charge I started to think that it is glitched and kept recharging it anyway every few days. However, last month I won a lottery ticket to do some house painting over the weekend. So I turned on the music, as all profesional painters do, and started to paint. After 11 or 12 hours of non-stop work I discharged SoundCore to 60%. I think I literally gasped when I saw that number.
Buttons are awful
Buttons are located on top of the speaker. There are 5 of them: power on/off, play/pause, volume up and down and bluetooth pairing. They have near to no tactile feedback which Anker replaced with rather shitty, cheap rubber feel. Because of that I tend to push buttons down really hard for really long time, just to be sure.
Bluetooth and power buttons are the worst because they must be held down to activate. For example, according to the manual, to pair with a new device you have to hold down the bluetooth button for over a second. I never held it shorter than at least 4 seconds simply because I don't trust it. Same with power button - it must be held down to turn the device off. At least in this case we get a clear feedback that it worked (music stops playing) so it can be released as soona as possible.
SoundCore is being replaced with inferior brother
Since we bought it, Anker released second version of SoundCore which is arguably prettier and waterproof (finally, yay!). Too bad for Anker, it also gathered much more negative reviews for its sound3. It seems that you can't have everything: speakers either swim or sound good.
If you're thinking about buying a small and cheap bluetooth speaker, this might be the good time, when new SoundCores are still available online. I love mine and wouldn't replace it with any other speaker. Even my 3.5 years old son demands it loudably when he plays music from my wife's iPod, and he's the most sincere reviewer.